It's the holiday season. So hurry up and grab someone special, cozy up by the fire, and check out this read on the best of December weddings. Since it's the most wonderful time of year yet again, we want to share with you the gift on how to transform your wedding from bland to bold. Incorporate these subtle touches to really get in the holiday spirit, and make your special day all the more festive.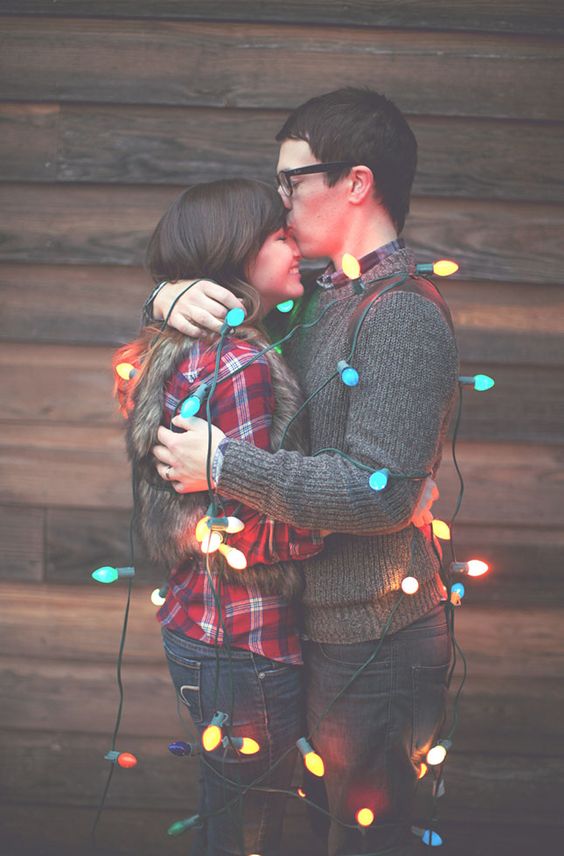 Photo Courtesy of Haley Sheffield| BRIT + CO
Save The Dates
Forget about hanging a shining star on the highest bough, and opt to hang these fabulous ornament mementos on your tree instead. These ornaments make for the simplest "save the date" reminder. Your friends and family will definitely appreciate such a sentimental keepsake to add to their tree every year.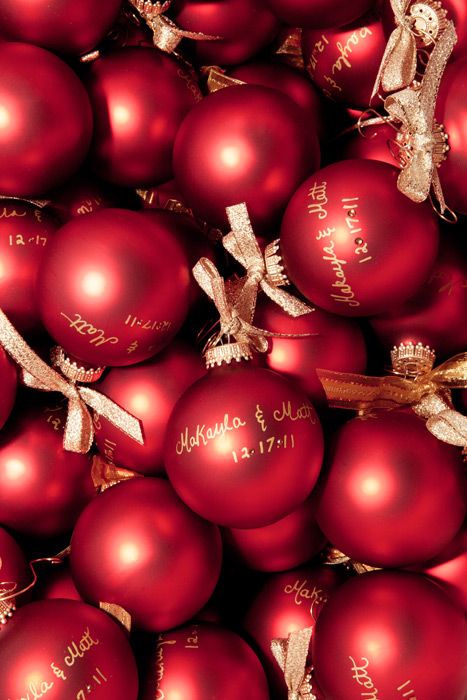 Photo Courtesy of Happy Wedd
Wedding Gown
Go big or go home during the holiday season. If you dare compete with such a major holiday, don't let Santa steal the show. Check out this exquisite dress that appropriately fits the chill of winter. It's elegant bottom flows perfectly into a simple, long sleeve, figure   flattering top. The detail on the bottom of this dress is breathtaking, but simple enough to not be over the top.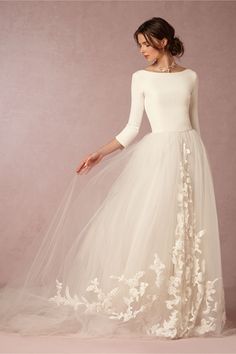 Photo Courtesy of The Perfect Palette
Invitations
Less is almost always more. These simple invitations really are the cherry on top for this picturesque winter wonderland theme. They are the perfect balance of sophisticated and classic, and also don't reveal too much on what's in store for your guests on the big day.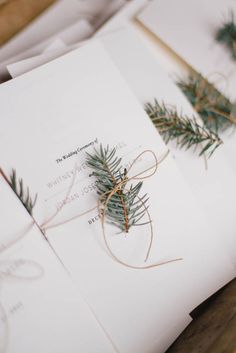 Photo Courtesy of Cute Wedding Ideas
Winter Bouquet
This bouquet is one of a kind; just like you. What screams winter more than pinecones and baby's breath? Dare to be unique by replacing some of your florals for something new and seasonally themed.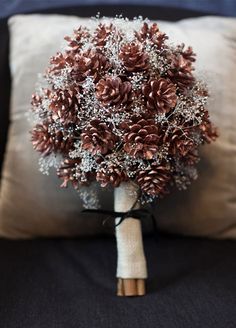 Photo Courtesy of Colin Cowie Weddings
Holiday Signature Cocktails
It wouldn't be a white Christmas without this crowd pleasing martini. So don't skip the drink menu when trying to incorporate your seasonal touch. An interesting, yet tasteful signature cocktail like this is sure to stick out in your guests' memory for years to come.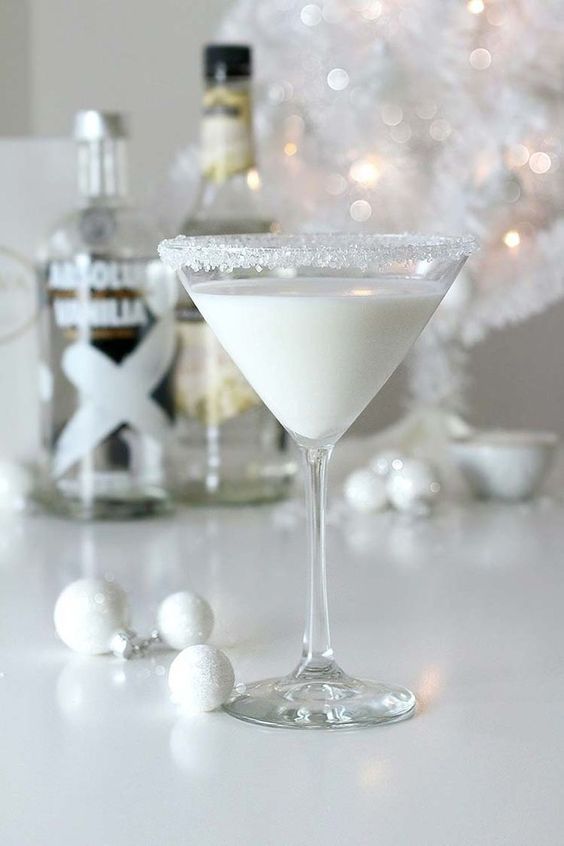 Photo & Recipe Courtesy of Lulus
White Chocolate Snowflake Martini
Ingredients
(makes one drink)
2 oz. vanilla vodka
2 oz. Godiva white chocolate liqueur
1 oz. white creme de cacao
1 oz.  half and half
Lemon wedge
Sanding sugar
Directions
Cut a half-inch slit into the lemon wedge and rub it around the rim of the glass. Pour sanding sugar into a shallow dish then dip the rim in the sugar to coat evenly. Gently shake off excess sugar. Add the vodka, chocolate liqueur, creme de cacao, and half and half into a shaker filled with ice. Shake well and strain mixture into glass.
Flower Girls
These tiny tots will have their eyes all a glow over how gorgeous these flower girl outfits are. The large oversized red bows add an extra festive flare that everyone will be sure to love.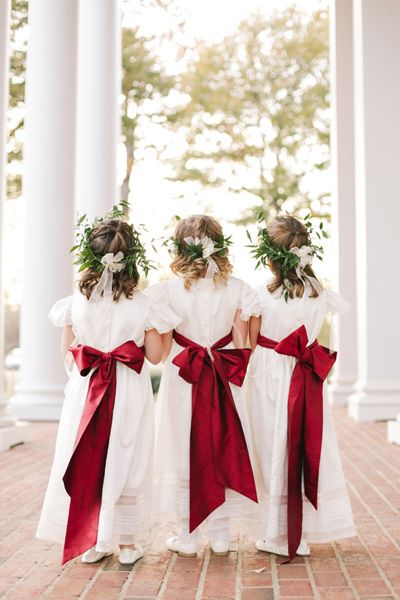 Photo Courtesy of Southern Weddings Magazine
Bridesmaids Dresses
Your bridesmaids will be more than rocking around the Christmas tree in these red fabulous dresses. Red and white couldn't be a better pair this time of year. The bold contrast adds a timeless rich taste that will make for an unforgettable wedding album.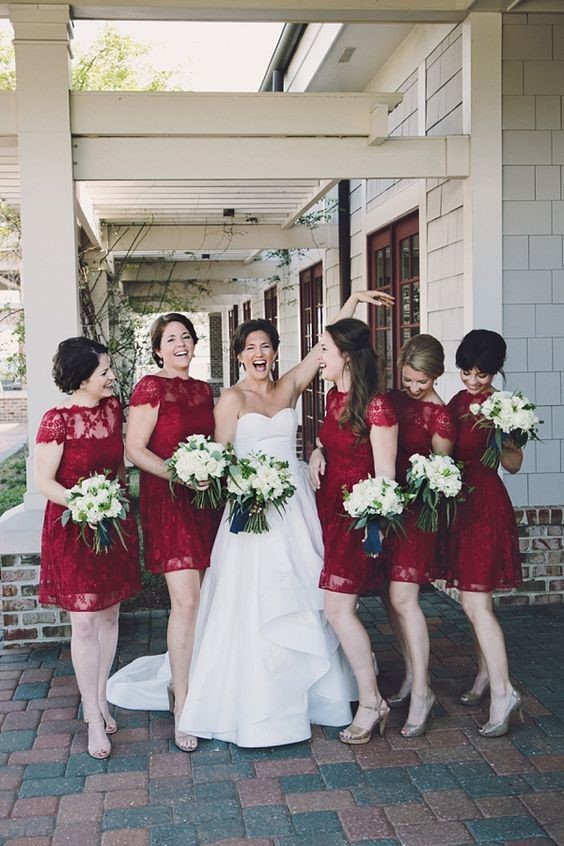 Photo Courtesy of Echard Wheeler Photography | TideWater and Tulle
Winter Inspired Cake
This cake could bring joy to the world with its amazing design. Simple, tasteful, and elegant; three things a wedding cake should always be. The incorporation of pinecones adds to the overall winter theme, and also fluidly carries a trend over from the unique bouquets mentioned earlier.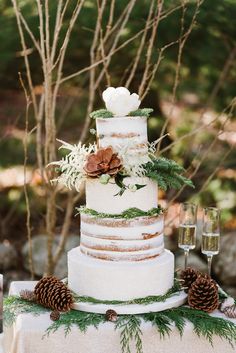 Photo Courtesy of The Perfect Palette
Nature will always be a timeless staple to a wedding, despite the time of year. It is the best element to incorporate into your special day because it will never go out of style. Utilizing fresh spruce with your place cards  really will only enhance the total ambiance and atmosphere for you and your guests. Not to mention, they will smell heavenly and fill the room with a winter aroma your guests can't help but "pine" over.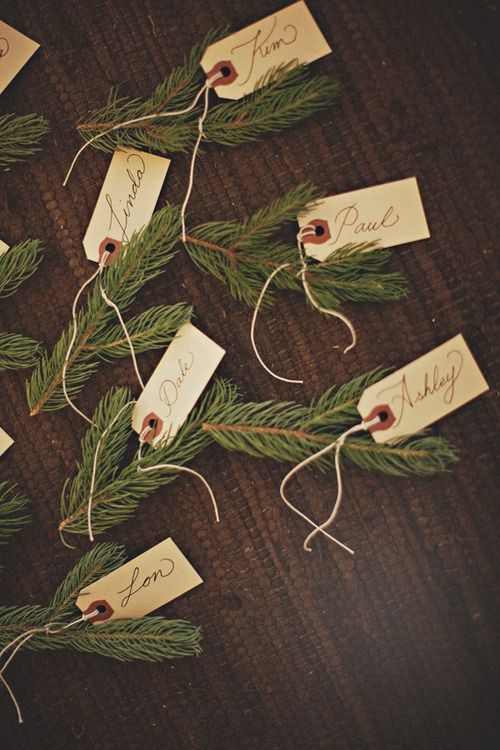 Photo Courtesy of Top Dreamer