We love a signature drink and think every wedding (and party for that matter!) needs at least one to help show your personality, tell your story or reflect the season.  Incorporate these fall cocktails into your cocktail menu and get ready to celebrate! These fabulous drinks help define the season in a unique way, and are sure to have your guests up and on the dance floor.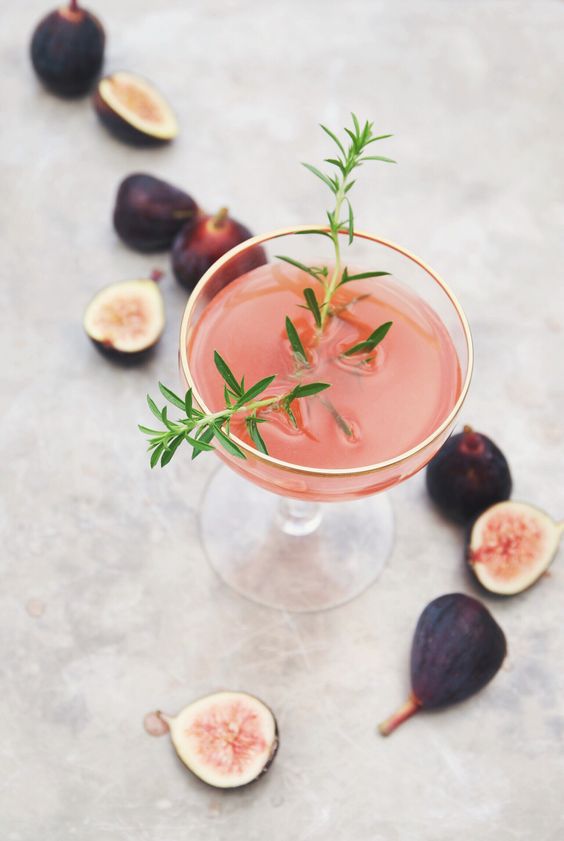 Courtesy of Jayme Marie Henderson | holly & flora
No better 'thyme' to incorporate the fruits of the season, than adding this fig and thyme cocktail to your celebration's drink menu. It's beautiful pink color combined with its unique taste will make your big day all the more memorable within the first sip.
Ingredients
Instructions
In a mixing tin, muddle the figs with the thyme simple syrup.
Fill the tin with ice.
Add the light rum, apricot liqueur, allspice dram, and lemon juice.
Shake well and double strain into coupe glasses.
Garnish with a sprig of freshly cut thyme.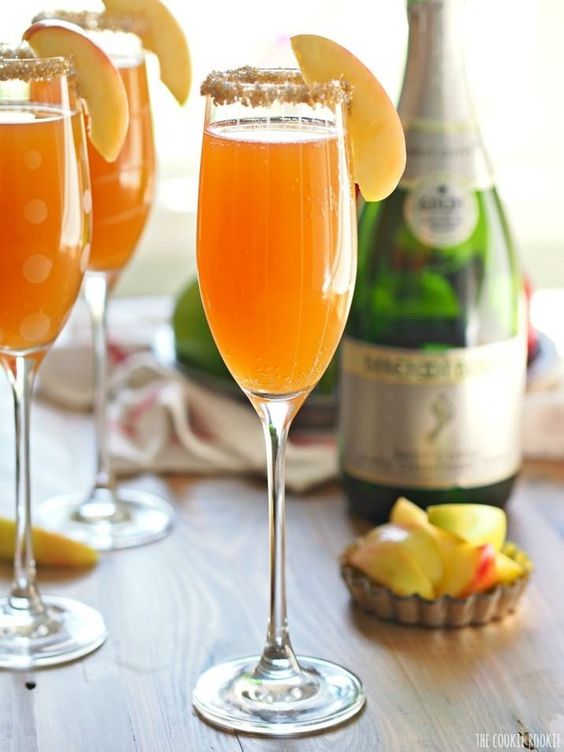 Courtesy of Becky Hardin | The Cookie Rookie
Apple Cider Mimosa
What better way to truly taste fall than an apple cider mimosa? Already a crowd pleaser; this bubbly and flavorful cocktail will make sure to add some zest to your cocktail menu.  This would also be a perfect addition to your post-wedding brunch menu if it feels too much like a daytime cocktail for your evening reception.
Ingredients
Apple Cider
Champagne
gold and silver sprinkles for rim of glass (optional)
apple slices for garnish (optional)
Instructions
Dip the top of each champagne glass into water and then dip in the sugar crystals to coat.
Pour each champagne glass 1/2-3/4 full with apple cider.
Top with champagne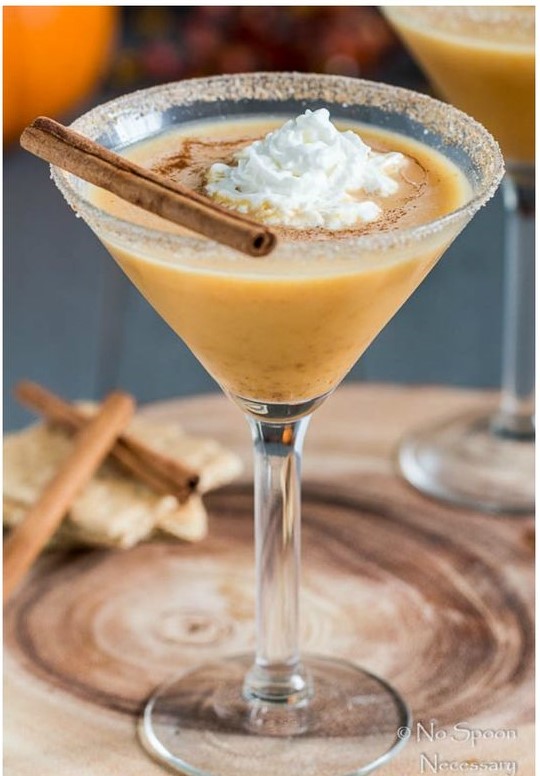 Courtesy of No Spoon Necessary
Pumpkin Pie Martini
Pumpkin pie is not just limited to desert at the end of your thanksgiving dinner or your seasonal Starbucks latte. This delicious martini takes our love for the season and crafts it into something a little more fun and festive for a celebration. Your guests will be raving over this cocktail that is too good to only be savored at their grandmothers' houses.
Ingredients
2 Oz. Pumpkin Spice Vodka
1 Oz. Dark Rum
½ Oz. Half and Half
2 TBS Pumpkin Puree (canned or homemade)
1 Oz. Maple Syrup
¼ tsp Pure Vanilla Extract
3 Ice Cubes
For the Rim:
Maple Syrup
1 Graham Cracker
½ tsp Cinnamon
1 TBS Granulated Sugar
Garnish:
Nutmeg
Cinnamon Stick
Instructions
For the Garnish: Crush graham cracker in a Ziploc bag, or food processor, or food processor until it resembles sand. Stir in the cinnamon and sugar. Line the rim of a martini glass with maple syrup (Use a thick napkin to apply syrup). Dip/roll in the cracker mix. Set aside.
For the Martini: In a cocktail shaker, combine the ice and remaining cocktail ingredients. Shake vigorously until shaker chilled to the touch.
Strain and pour cocktail into the prepared martini glass. Garnish with cinnamon stick and nutmeg.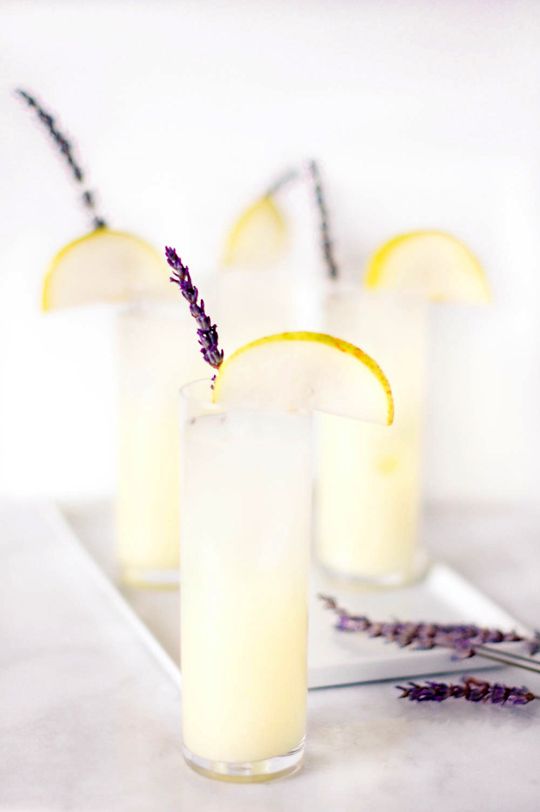 Vodka Pear Lavender Lemonade
Vodka and lemonade; there's no better 'pear.' Switch out your cocktail menu from boring to bold with this interesting twist on a traditional drink. The subtle pear incorporates the delicate taste of fall, while the splash of purple from the lavender gives this drink a sophisticated touch.
Ingredients:
1 pear, juiced
2 oz vodka
2 ounce lemon juice
2 ounces water
3/4 oz lavender simple syrup
pinch of salt
1 cup sugar
1 cup water
10-12 stalks fresh lavender or about 1/4 cup dried
Instructions
Make lavender syrup by boiling 1 cup sugar, 1 cup water, and lavender in a pot.
Turn to low and simmer for 10 mins. Let cool and strain out lavender.
Juice pear and strain any pulp.
Combine all remaining ingredients into a shaker and shake. Strain into a tall glass with ice.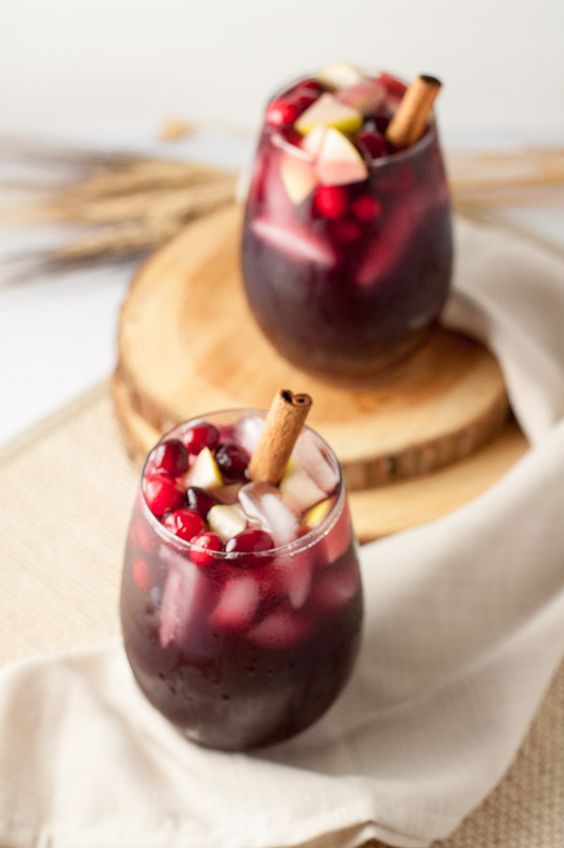 Courtesy of Flavour and Savour
Cranberry and Apple Cider Sangria
Go cran-crazy with this decadent fall approved sangria. This mixture will definitely have your guests up dancing on their feet. They'll love the fluid mixture of red wine, cranberries, apples, oranges, and honey.
Ingredients
1 750 ml. bottle red wine
3 cups soft apple cider (non-alcoholic)
1 cup unsweetened cranberry juice
½ cup Triple Sec or other orange liqueur
½ cup honey* (or ½ cup simple syrup, made by heating equal parts of sugar and water over medium heat until dissolved)
1 cup fresh or frozen cranberries
sparkling water to top off
1 cup freshly diced red and/or green apple cubes
cinnamon sticks for garnish
Instructions
Combine red wine, apple cider (or pure apple juice) cranberry juice, orange liqueur and honey (or simple syrup) in a large pitcher.
Add cranberries and diced unpeeled apples.
Serve over ice, if desired, filling glasses ¾ full and topping off with some sparkling water.
Garnish with a cinnamon stick and a straw.