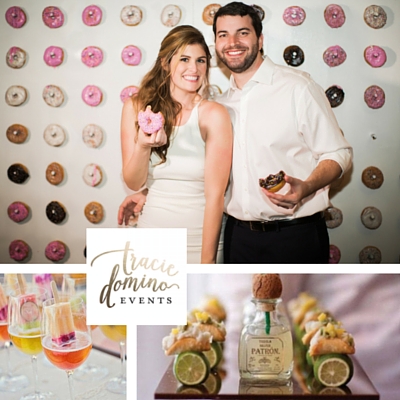 One of the most memorable elements of a great wedding is incredible food.  While steak and lobster tends to be a wedding favorite, we find that guests actually get more excited by "fun foods" that can be incorporated into different aspects of the wedding.  Remember that your wedding menu is a great way to show your your distinct personalities, so select something that your guests will know is your favorite, and you can't go wrong.
Popsicles+ Cocktails
Perfect for those hot summer weddings – or pretty much anytime here in Florida, this bright & colorful idea will leave your guests cool and refreshed. The cocktails can easily be switched out for kiddie-friendly drinks as needed.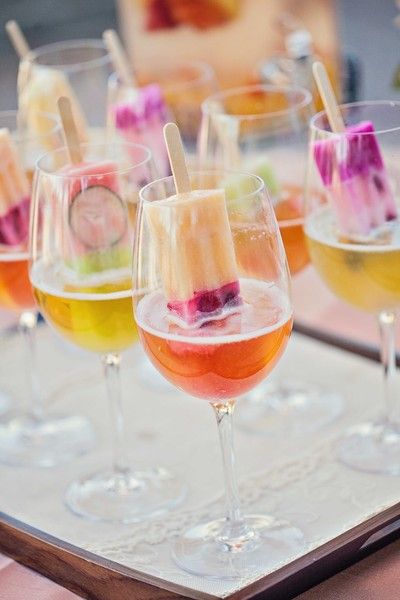 Source: Debbie Kennedy Events
Frozen Indulgences
If you live in the south, you know this is a must! How cute is this authentic gelato cart from Style Me Pretty.  You can serve it with cake or if you can't wait that long, serve it following an outdoor ceremony or cocktail hour.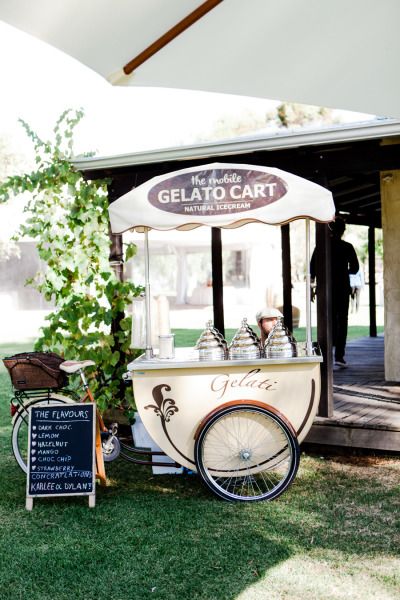 Photography: Nicolle Versteeg
Mini Grilled Cheeses & Tomato Soup Shooters
One of my all time favorites.  Until the end of time I will associate grilled cheese and tomato soup with Friday lunch at the Theta house at Florida State.  Serve this grown up version at your cocktail hour or as part of a food station.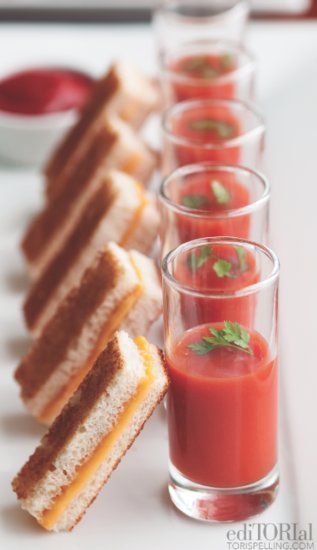 Source: Editorial by Tori Spelling
Chicken N' Waffles
Chicken and Waffles is no longer just comfort food. However, up until now it's taken a knife, fork and a whole lot of napkins. This bite-sized take on the classic southern delight is easily accessible and will knock your guests socks off!  This presentation is surprising and absolutely beautiful!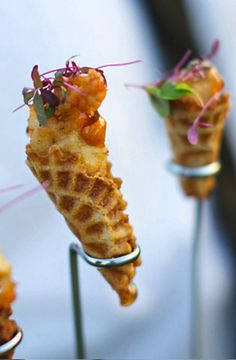 Source: Grey Likes Weddings | Photography: Phindy Studios
Exotic Flavor
If you want to incorporate a little bit of your heritage and culture but still want to keep the dinner menu mrs traditional, why not try bringing in Food Truck late night like our clients Caroline + Brad did at their wedding!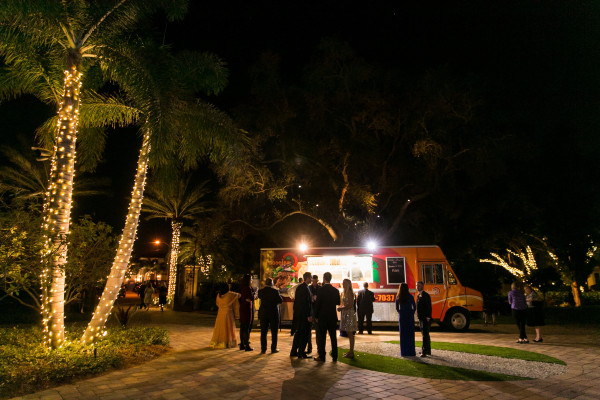 Photography: Justin DeMutiis Photography
This next photo has been around for awhile, but we still love it!  These mini tacos with mini tequila bottles are just too fun!  Don't be shocked if your caterer doesn't want to balance them on a lime, but you get the idea.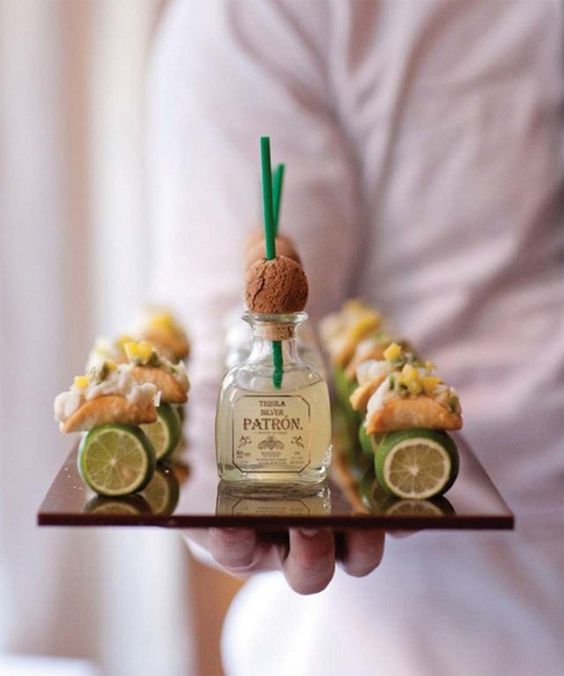 Photo courtesy of Style Me Pretty
Indian Flare
Typically a traditional Indian street food, these Vada Pav bites have been made bite-sized so your guests can enjoy them during cocktail hour or even as a late night snack.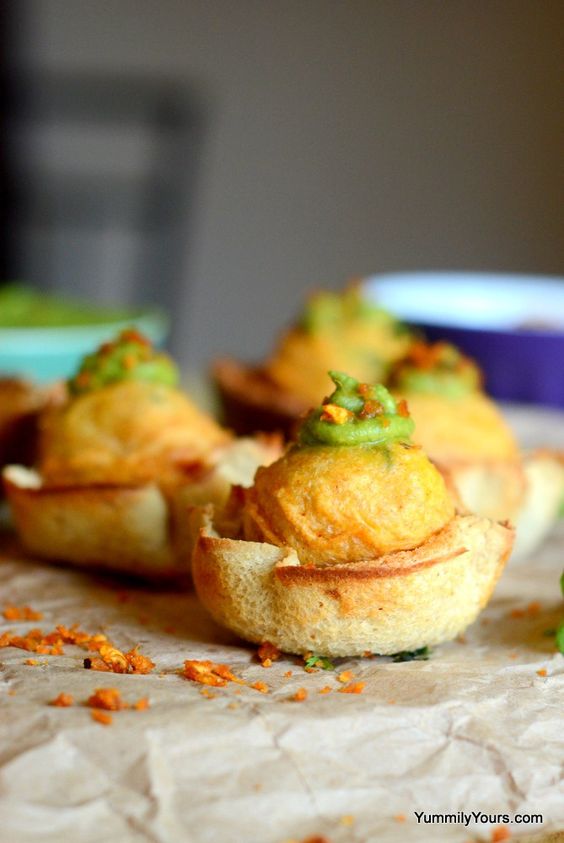 Source: Yummily Yours
Tailgate Favorites
If you and your fiancé love a backyard BBQ or are known for spending your fall tailgating at your alma mater, you might want to incorporate sliders and fries into your celebration.  Think beyond just beef sliders to include chicken, grouper, veggie and even ham on a biscuit.  Serving fries in a paper cone makes them more portable than on a flat plate. These photos were from our client's recent wedding at the Vinoy Renaissance Resort in St. Petersburg, FL.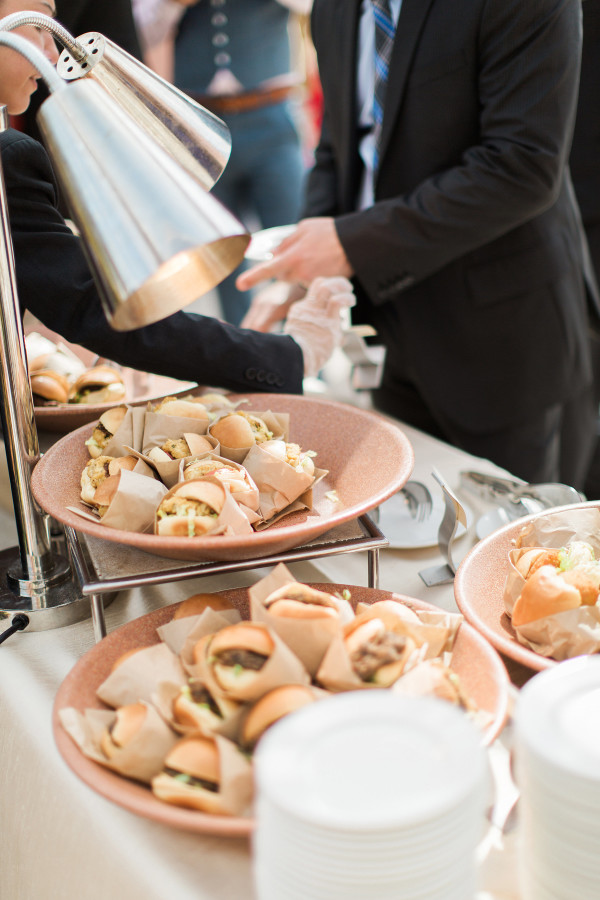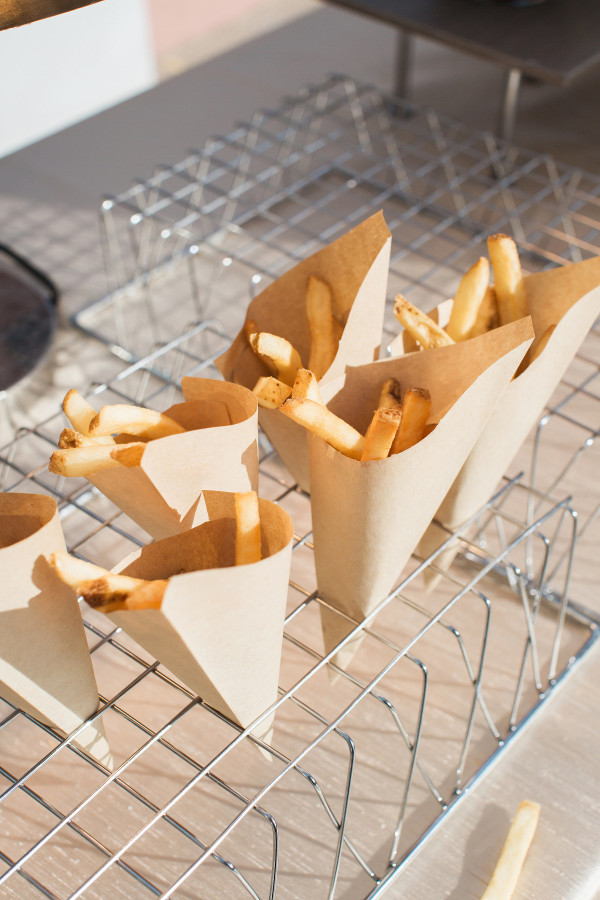 Source: Brooke Images
Sweet Treats
Who doesn't love churros? These bite-size cinnamon-sugar delights come with a shot of molten chocolate and are mess free!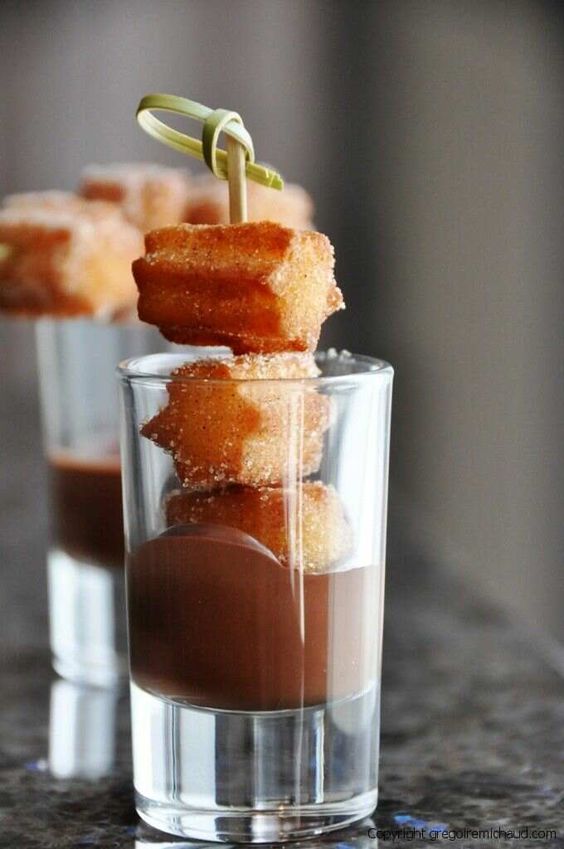 Source: Gregoire Michaud
How cool is this donut wall we had built for Jackie & Ryan's Wedding! This treat was always delicious but we made it a visually captivating statement piece for a reception!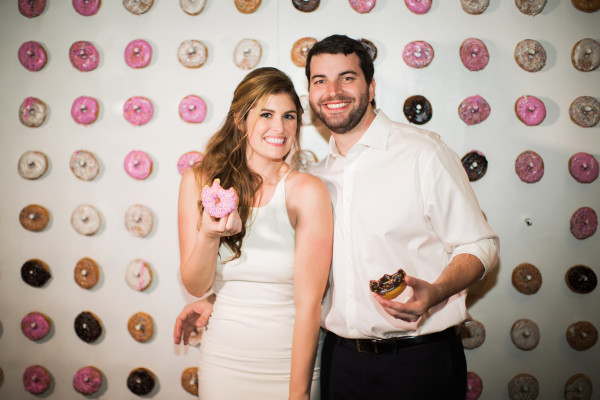 Source: Brooke Images
Build Your Own S'mores Bar
Perfect for a winter wedding and another interactive experience for your guests, add in a s'mores station.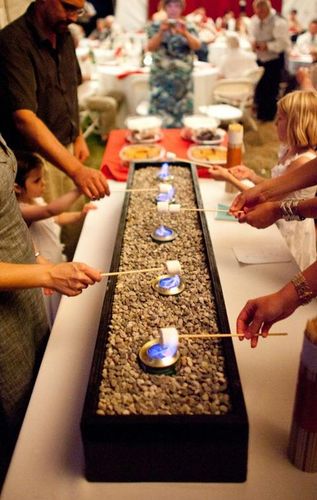 Source: The Kitchn | Jolynne Photography & Assaf Friedman Photography