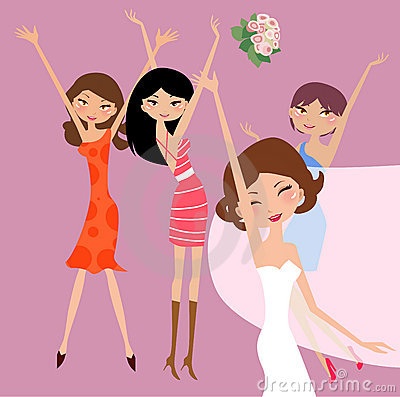 The moment you have been dreaming about since you were a little girl is here. Your long time boyfriend has decided that he wants to spend the rest of his life with you! After the shock and joy wear off enough to let you catch your breath, you begin to think. "Who should I choose as my bridesmaids and maid of honor?" This can be a difficult choice for some and a rather easy one for others. Some of us have 4 best friends and some have just one. Regardless of that, you still have to decide on the Maid of Honor. My recommendation is to take some days and write down a list of the potential candidates. Remember that this should be some of the happiest times of your life. Relax. Take a deep breath and don't let this choice be something bigger than it is. Think about all the times you spent with your friends and who was always there for you.
I always say that it's best to take a couple days to decide. Once you do decide make sure you sleep on the decision and see how you feel about it the next morning. I firmly believe that no matter what choice you make, your friends should be happy for you. Sometimes the choice may come down to a best friend or a family member. Both parties should still be happy for you regardless of your choice. Some people believe that when it comes down to two people, family should be the tie-breaker. This is completely up to you. Once you decide on a maid of honor, you can choose your bridesmaids. On average, there are 4-6 bridesmaids in every wedding. That number can definitely change so don't look at it as a law.
These 4-6 girls should be your closest friends and family. Again, writing down your candidates on a list is very helpful and can help you avoid unnecessary stress. Remember that once you make this choice, you can get to the fun part which is picking out the bridesmaid dresses. I still remember looking for my bridesmaid's dresses in stores. This was 12 years ago, so it was tough to get all my bridesmaids to look at the different dresses for their approval. Now a days, it much easier to share different dresses online with your friends and get their input right away. It didn't really hit me that I was engaged until I started to actually shop for the dresses. I will always remember that time. All of my bridesmaids gave me their opinions on the different dresses that we saw. I felt like I wanted to value their input because I wanted them to be happy and comfortable with the dresses they would wear on my wedding day. So remember to make your choice and don't stress so much about it. After all, this is a memorable time for every bride to be.
Author Bio
Jen Fraga is an Account Manager over at SayYesWeddingDresses.com where they offer all types of bridal gowns and more in just about any color and size. For more information, please be sure to check out their site.